Indulge in the Bold Flavors of
African Cuisine
Discover the bold and vibrant flavors of African cuisine at
African Food Feast – where traditional recipes meet contemporary techniques for an unforgettable dining experience.
Experience the Rich and Colorful World of African Cuisine at African Food Feast
At African Food Feast, we invite you to discover the rich and colorful world of African cuisine. From the spices and herbs that give our dishes their unique flavor profiles, to the fresh, locally-sourced ingredients that make our dishes stand out, every bite is a journey through the vibrant cultures of Africa.
Chef Alick Matewa combines traditional recipes with contemporary techniques to create dishes that are both authentic and innovative. Whether you're a meat lover, vegetarian, or vegan, we have a wide variety of dishes to suit all palates.
Visit us & Taste the Rhythm of Africa!
Get ready to experience our mouth-watering cuisine at African Food Feast's 
Friday, May 26th and Monday, May 28th - See you soon!
Paddys Markets Flemington
African Cooking Demonstrations 11am - 1pm
Markets & Upcoming Events
Every Saturday / 8am - 2pm
Every 1st and 3rd Sunday / 9am - 1pm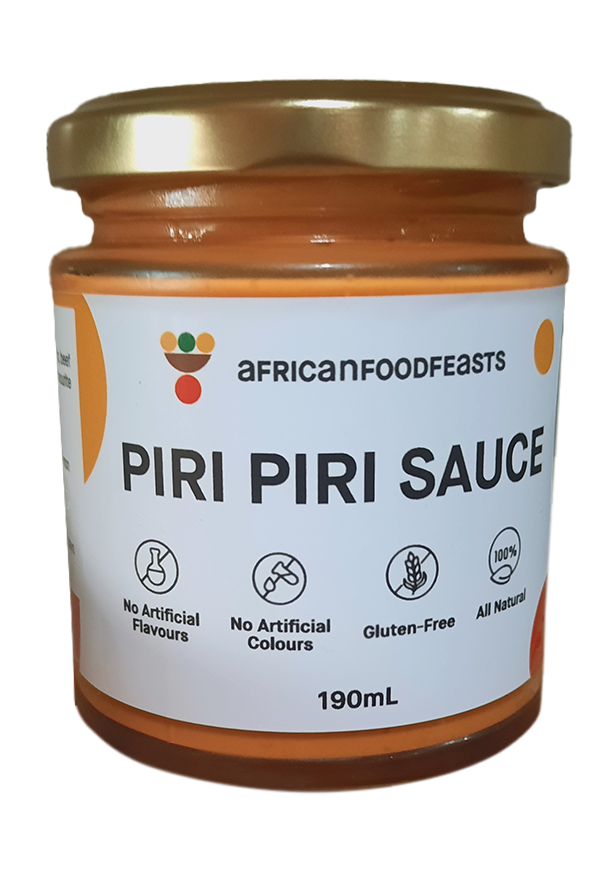 Experience the passion and intensity of African Food Feasts' Piri Piri Sauce, and embark on a culinary adventure like no other!
This all-natural, authentic sauce is crafted from the finest ingredients and aged to perfection, delivering a burst of spicy, zesty goodness to elevate your culinary creations. At the heart of our Piri Piri Sauce is the fiery birds eye chili, renowned for its intense heat and rich, smoky flavor. This tiny chili packs a powerful punch, adding a delightful kick to any dish.
Piri Piri Sauce, now available at select markets!
Crafted with love and inspired by the rich, diverse culinary heritage of the continent, this is the drink that will leave you craving more!
Our masterful blend starts with the finest rooibos tea, a South African treasure with a naturally sweet, earthy taste and a deep, amber hue. Rooibos is not only delicious but also packed with antioxidants, making it the ideal base for our tantalizing punch.
Rooibos Punch, now available at select markets!
A premier destination for authentic African cuisine in Sydney.
African Food Feasts offers a rich and diverse selection of dishes inspired by the vibrant cultures of Africa. From our delicious stews to our flavorful grilled meats and fresh vegetables, every bite is a journey through the diverse and dynamic flavors of the continent.
At African Food Feast, we are passionate about using only the freshest and highest-quality ingredients in our dishes. Chef Alick carefully crafts each meal with a blend of traditional recipes and modern techniques, resulting in a truly unique dining experience.
We offer a variety of dishes to suit every palate, including vegetarian, vegan, and gluten-free options. Whether you're in the mood for a hearty meal or a light snack, we have something for everyone.
The perfect place to enjoy a meal with family and friends. We also offer takeout and catering services for special events and occasions.
Come discover the flavors of Africa at African Food Feasts – where every meal is a celebration of culture, tradition, and community